This winter things are popping, and I'm not really even doing much snow removal.
Last week I appeared on
The Survival Podcast
with Jack Spirko. The show is not all about bullets, beans and band-aids (although sometimes) and delves into topics that can help us prepare not for the Zombie Apocalypse but the many little disasters - job loss, blizzards, tornadoes - and how to setup your lifestyle to be more resilient. The impact of many disasters can be reduced by preparing in a few sensible areas. Business building and
Permaculture
are both favorite topics of the show and can help lead to a less fragile existence.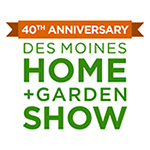 The Des Moines Home and Garden Show is coming up this week and I was invited to help Blooming Prairie Nursery with their presentation and share their booth space -
#1510 near the Feature Gardens
. We will be presenting on the
Inspiration Stage
each day of the show.
Thursday at 4:00 PM
Friday, Saturday & Sunday at 11:00 AM
2 for 1 tickets on the EVENTS page!
The following weekend I'll be doing the
backyard orchard class
at Cherry Glen Learning Farm.
Planning the Backyard Orchard
using Ecological Principles & Permaculture Techniques
Saturday, February 17 at 2 - 4pm
click
HERE
for more information
Of course design work is the main task right now. So, if you would like to get something set up for this season, now is a great time to contact me for a design or consultation. Late winter is also a great time for pruning your fruit trees for health and productivity, so get on my list so we can schedule that for you.
Hope to see you out and about!
Jeff
Be sure to visit our friends at Browne Atlas for all your worm casting needs!